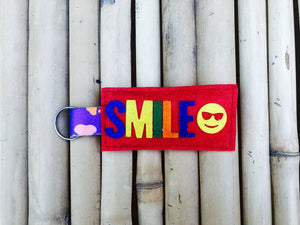 This is a great way to accessorise handbags and kids school bags. Can also be used as a keychain. Highly useful as a birthday return gift as well.
Smile or any other text like dream, believe, dreamer can be written
Customise the base colour 

Made of high quality Felt
Size: width 2 inches, length depends on the length of the text

Processing time: 2-3 business days
Note: Please mention One Word Text and Base Colour at the time of Checkout to enable us process the order.
For bulk enquiries, please connect on 9821788907